State Life Insurance-Salary Saving Plan-Individual Life Plan-Bonus Rates. State Life Insurance Corporation is also famous as SLIC which consider the largest Life Insurance Company of Pakistan. It has about 200000 agency network all over Pakistan. Its owner is the Government of Pakistan and it has established in 1972. Its recently headquarter working from Karachi city.
In this article, I will completely clear your doubts about SLIC and will completely guide you about State Life Insurance Policy, Salary Saving Plan, Individual Life Plan, Bonus Rates, Group Life & Pension Plans, and Health Insurance.
State Life Insurance-Salary Saving Plan-Individual Life Plan-Bonus Rates
 Salary Saving Plan
State Life introduced a new policy that is Salary Saving Plan, its main motive is to encourage the culture of saving among the Pakistani Nation.
Introduction
This plan is introduced for the employees of any organization of Pakistan with easy and affordable options. This plan enhanced features for the employees and their families. Salar Saving Plan is a straight forward, flexible and systematic plan.
In this, you are to deposit tiny monthly premium or instaalments and in results, it provides high-risk coverage for State Life Insurance Policyholders and their families. This small deposit premium will never affect your personal budget.
Salary Saving Plan Benefits
This plan is very easy, understandable and automatic.
Save at a young age and it will provide you in old age.
It is family protection after death.
This plan encourages the environment of saving and then spend afterward.
It gives high maturity benefits than other policies.
In the case of death, it gives an average of Rs 1000000 for an individual employee.
This plan includes a pension for nominees.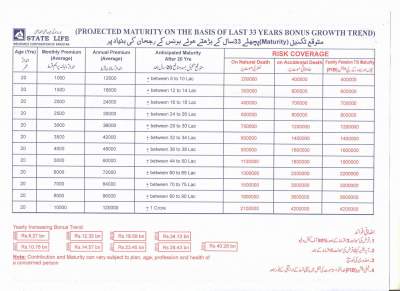 State Life Insurance Individual Life Plans
Individual Life Plans
includes the following categories on whic
h you may get this policy. To get more details about these categories
Click Here
Whole Life Assurance
Endowment Assurance
Sadabahar Plan
Anticipated Endowment Assurance
Shad Abad Assurance
Jeevan Saathi Assurance
Child Education & Marriage Assurance
Child Protection Assurance
Shehnai Policy
Sunheri Policy
Optional Maturity Endowment
Nigehban Plan
Muhafaz Plus Assurance
Supplementary Covers
Committee Policy
State Life Insurance Policy Bonus Rates
State Life Insurance offers good and attractive bonus rates. The following are the types of bonus rates for different plans. To check all bonus rates Click Here
Reversionary bonus
Special Reversionary bonus
Super (Table 72), Sunehri (Table 73) & Shehnai (Table 77) Policies
Committee Policy (Table 79)
Personal Pension Scheme (Table 71)
Family Income Benefits in course of payment
Terminal bonus
Special Terminal bonus
Terminal bonus for (With Profit Tables/Plans) PAID-UP Policies
Loyalty Terminal Bonus
Loyalty Terminal Bonus for (With Profit Tables / Plans) PAID-UP Policies
Thirtieth Anniversary bonus
Millennium bonus
Golden Jubilee bonus
One Time bonus
State Life Insurance Group Life & Pension Plan
Group Life Insurance
Group Life Insurance Plan provides life insurance for the members of the group. For more detail Click here
Group Life Insurance Plan Benefits
On the death of any insured member, the sum assured will be paid to his family and if any 3 years periods State Life earns a net profit on any policy, then some share in the profit is passed on to the policyholder.
Added Riders In Group Life Insurance Plan
1= Accident Rider
If a person gets permanent or total disability during accidents then this member is entitled to the sum assured. It includes loss of two limbs, two eyes, or loss of both ears.
2= A.D.B Rider
The death benefit of this assured rider is doubled if the death caused due to accident.
3= Critical Illness Rider
If a person is assured in Group Life Plan and he suffers from the following critical illness then he is entitled to the rider sum assured,
Heart attack
Coronary Artery by-pass surgery
Stroke
Cancer
Kidney Failure
Major organ transplants such as heart, kidney or liver
State Life Insurance Pension Plan
If a person working life is over or he is retired from his active service then the State life pension scheme is only sourcing to provide monthly income when other sources of income stops.
What is the Pension Plan or Scheme?




Actually this is a saving or contribution plan which is collected during the working like of a person. After retirement from active service then he is entitled to get steady monthly income from this plan which he built up from the earlier savings. For more information about Pension Plan Click Here