Hi, I am providing you the best guideline for candidates who want a bachelor's degree as a private candidate from Sargodha University. In this article University of Sargodha Admission Guide for BA Private Candidates, I will reveal all important information regarding admission as a private candidate. So read this article till the end. In this article, I will discuss the following topics

How to get Sargodha University Challan For?

How To get the University of Sargodha Admission Form?

Introduction Of Sargodha University UOS.

Admission Rules and Regulations.

Compulsory, Elective and Optional Subjects List
University of Sargodha Admission Guide for BA Private Candidates 2020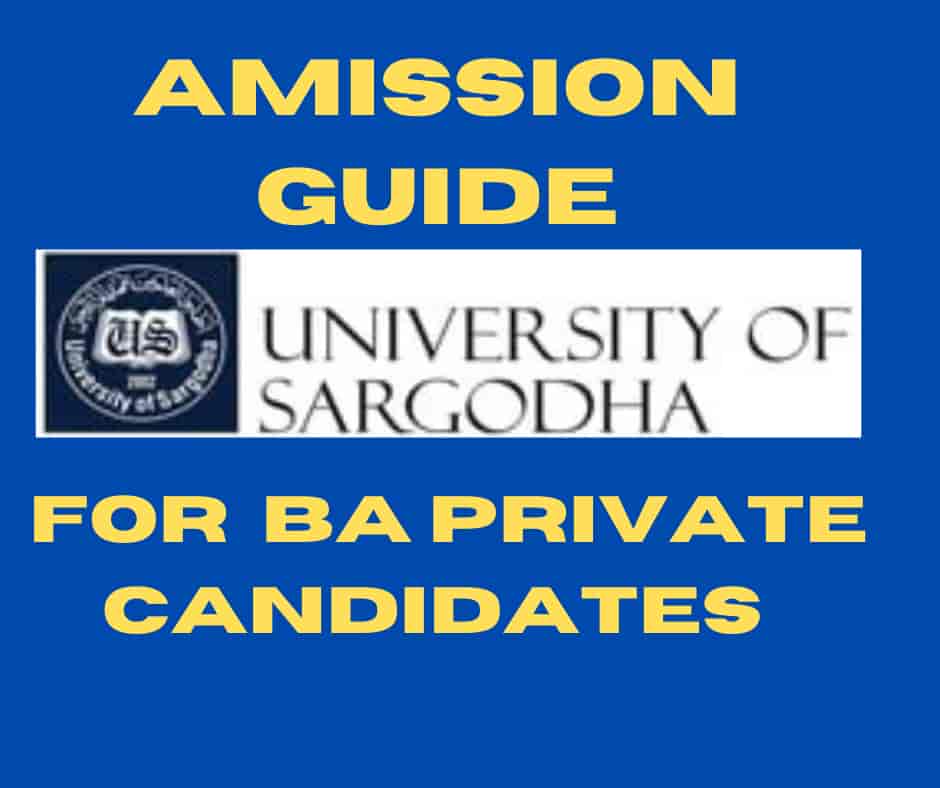 Process Of Sargodha University BA Private Exam
Registration Fee: PKR 2500
Admission Advertisement: Oct Every Year
Admission Fee Single: PKR 3500
Roll No Slip: March Every Year
Admission Fee Double: PKR 6700
Admission Fee Triple: PKR 10050
Annual Exam: April Every Year
Admission Form: UOS Website and HBL
Introduction Of UOS University Of Sargodha BA Admission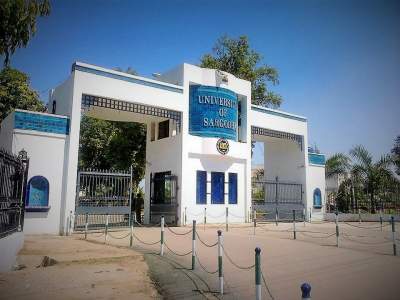 University of Sargodha's first name was Government College Sargodha and later it established in 2002 as a University of Sargodha. Many candidates from Sargodha Division and all other cities of Pakistan are getting admission in BA Private.
The Bachelor of Arts BA degree in one of the oldest degrees in the world. Simple BA duration is 2 years and in Hons Programm it gets 4 years to complete. The University of Sargodha launches a BA program for private candidates. Those candidates who cannot afford heavy fees of the university as regular candidates so university offers them to take part in the BA program as a private candidate and after passing the exam candidates will get a degree as regular candidates have.
To get admission and appear into exam candidates must take the first step to register themselves at the University of Sargodha. After registration candidates must fulfill rules and regulation otherwise they cannot appear in the final exam.
UOS Admission Process For Private BA
Those candidates who want to appear in the BA exam of Sargodha University must register themselves with UOS. Sargodha University starts its BA private program in September every year. Every year many students appear in BA private exam.
Registration is a process in which university assures candidates that they can appear in the exam. If the candidates appearing in the University of Sargodha Admission Guide for BA Private Candidates exam the first time they must deposit registration fees as well as admission fees.
The BA private candidate admission starts in September every year and the exam held in April every year. Candidates must avoid incomplete admission form, wrong information, overwriting, cutting and erasing. After the registration admission process start and the university announced its admissions schedule in the newspaper.
 For Online Registration: Click Here
Sargodha University Private BA Admission Form and Admission Fee
Willing candidates must keep in mind that the admission form and registration fee must be submitted well in time before the deadline.
Admission form can be downloaded from UOS official website www.uos.edu.pk or can be collected from any online branch of Habib Bank Limited HBL in your city by paying just Rs 30.
The admission fee for BA private program must be deposit well in time before the deadline. Candidates must pay PKR 2500 as a registration fee if you are not already registered at the University of Sargodha. With registration fee candidates must submit an admission Single fee of Rs 3350 and with double Rs 6700.
For Admission Form: Click Here





For Challan Form: Click Here

Admission Rules and Regulation for Private BA Candidates
Candidates must follow rules and regulations set by the University of Sargodha otherwise admission may be delayed. Before admission candidates must read Rules and regulations below for University of Sargodha Admission Guide for BA Private Candidates 2020.
Candidates must have Intermediate Result card or Equivalent Certificate.

Must provide attested copies of CNIC or B Form.

One Original Passport size photograph.

If you passed you FA or Equivalent from other Board must have NOC for admission.

Candidates from outside of Punjab must submit Rs 1400.

Applicants must give a postal address to the University in this way Roll Number Slip, result cards and degrees will be be sent at that address.

Applicants must attach photocopies of a registration card, CNIC, and attested passport size photographs with sky blue background in the Bank.

Candidates must deposit the required amount of Registration fee and admission fee in any online branch of Habib Bank Ltd and also attach the original Bank challan with the admission form.

Candidates should produce a migration certificate in case they have passed their intermediate from other Boards/universities.




Incomplete forms will not be accepted.

The total number of chances to avail is 5.

candidates must select their subjects carefully for admission because after the admission fee will not be refunded.

To pass exam minimum marks required are 33% in each subject.

Candidates will be awarded grace marks if he failed by 5 marks or less.

candidates fail in one, two, or more subjects must prepare the subjects in which they declared fail.
9th Class Result- All Pakistan  Boards
Subject List For University of Sargodha Admission Guide for BA Private Candidates 2020 
Willing candidates must choose two electives and one optional subject along with compulsory subjects in BA Private Examination. The University of Sargodha offers a BA Private program for 2 years.
Following is the list of compulsory, elective and optional subjects.




Compulsory Subjects
1. English Language Total Marks 200
2. Islamiyat/ Ethics Total Marks 60
3. Pak Studies Total Marks 40
Elective Subjects
candidates must choose 02 elective subjects wit 200 marks each. Elective subjects list is as below
1. International Relations
2. Journalism
3. Social work
4. Persian
5. Urdu
6. Education
7. Health and Physical Education
8. English Literature
9. Political Science
10. Home Economics
11. Fine Art
12. Psychology
13. History
14. Geography
15. Punjabi
16. Islamiyat
Optional Subjects
Candidates must choose only 01 optional subjects with marks 100.Below a complete detail of optional subjects
1. Arabic
2. Geography
3. Fine Art
4. Economics
5. History
6. Internal Relation
7. English
8. Journalism
9. Home Economics
10. Philosophy
11. Persian
12. Islamiyat
13. Psychology
14. Political Science
15. Sociology
16. Social Work
17. Punjabi
18. Urdu
19. Library Science
Candidates are not to be permitted to get an optional subject which he has taken as an elective subject.
Sargodha University Private BA Date Sheet and Exams
The University of Sargodha sends a Date Sheet and Roll Number slip in March to the candidate's postal address and exams start in April. The date sheet is the same for both private and regular candidates. candidates receive roll number slip at least two weeks before the examination.
BA annual exams for private candidates conducted in April every year. Results are announced in August or September. If candidates get failing elective or optional subjects in the final examination, then he/she can appear in the supplementary examination of the same course.
How to Verify Result Card and Degree From University Of Sargodha?
Application Requirements
Download Verification Form, Fill it and attested.

Attach attested photographs with this form.

Pay fess Rs 2000/- ( Original Challan Form) (HBL Collection Account # 0042-79917964-03).

Attested photocopy of the result card.

One attested photocopy of the ID Card.

Attested copies of Matric, Intermediate, BA
So this is the complete detail of the University of Sargodha Admission Guide for BA Private Candidates 2020, read it and apply for your required subjects after the registration on the UOS website.