Shifa College of Nursing announced an advertisement for BSN Nursing Admission In Islamabad 2022 Apply Online www.stmu.edu.pk. Shifa Tameer-e-Millat University invites applications for BSN Admission 2022 in Islamabad.
Shifa International Hospitals Limited(SIH) is a Joint commission international accredited multidisciplinary tertiary care hospital in Islamabad established in 1993. Confirmed employment opportunities in SIH on completion of 4 years degree programs. Sponsorship from SIH is available for all the students.
BSN Nursing Admission In Islamabad 2022
Eligibility Criteria for Bachelor of Science in Nursing
Qualification Required
Matric with Science ( Physics, Chemistry and Biology as Compulsory Subjects).
FSC ( Pre Medical) with minimum of 50% marks ( Physics, Chemistry and Biology as compulsory subjects).
A Level certification accompanied by an equivalent certificate from inter board committi of chaiirman (IBCC).
Age 17-35 Years
Passing Entry Test and Interview of the College.
The last date to apply is 1st April 2022.
Read; New Admission in Pakistan 2022
How To Apply for BSN Nursing Admission In Islamabad 2022
Students may apply online on official web portal www.stmu.edu.pk.
Prodpectus and application processing fee voucher of Rs 3500/ is to be submitted at any branch of HBL at any city.
Candidates are advised to send fee paid voucher and verified copies of all required documents to the students affiars office on or before the last date.
The last date is 01 April 2022.
Admission tests will be conducted on 23 April, Saturday 2022 at 09 am.
Students may apply online on official web portal www.stmu.edu.pk.
Prodpectus and application processing fee voucher of Rs 3500/ is to be submitted at any branch of HBL at any city.
Candidates are advised to send fee paid voucher and verified copies of all required documents to the students affiars office on or before the last date.
The last date is 01 April 2022.
Admission tests will be conducted on 23 April, Saturday 2022 at 09 am.
Contact Number: 051-8464394/3619
Email: studentaffairs.scn@stmu.edu.pk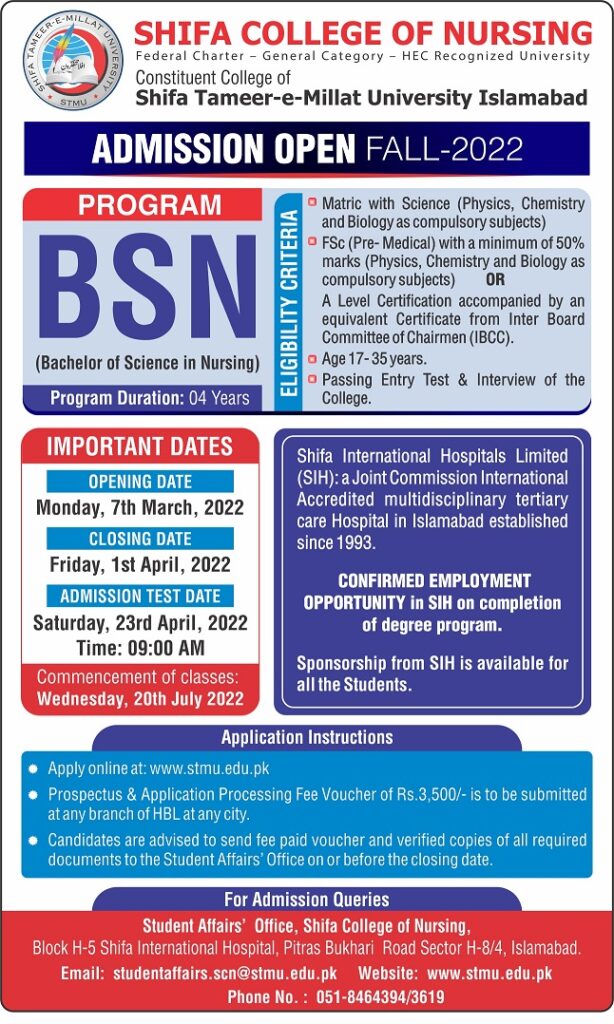 college of nursing Islamabad admission
Islamabad admission 2022 bs nursing
Government nursing admission 2022