In this article, I will guide you on How to Get Admission to Cadet College After Matric. I will also provide the names of Military admission in army cadet college, Government, and Private Cadet Colleges that offered admissions after the 10th for 1st-year pre-medical, pre-engineering, and ICS. You will also know the complete eligibility criteria and method how to apply for admission in 1st year.
Every year admissions are open for all cadet colleges and military colleges after matric for class 11th admission and thousands of students appear for admission entry tests to get admission on first priority.
If you want to get admission in any military college or cadet college you must be passed matric with science then you are eligible and arts students are not eligible for admission in any college for class 1st year. Mostly
How to Get Admission to Cadet College After Matric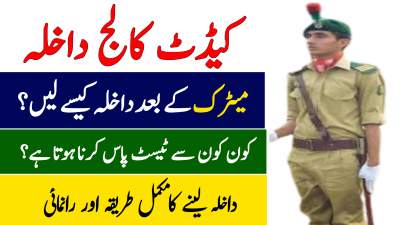 Eligibility Criteria to get Admission in 1st year
Following eligibility conditions are required to get admission to any college for 1st year selection criteria and eligibility age
Qualification:
Matric Science with 60% marks
Candidates who are studying in matric are also eligible to apply for admission but must be passed their 9th class with 60% marks.
Age Required
Students' age must be between 15 to 17 years.
90 days of age relaxation may be granted according to the college rules.
Read, Top 8 Military Cadet Colleges in Pakistan 
Colleges Name That Offered Admission After Matric
Following are the cadet colleges and Military colleges where you can apply for admission for Intermediate, FSC Pre-Medical, Pre-Engineering, and ICS after the 10th class. 1st-year admissions are open every year and you will get admission information on this page.
Selection Procedure to Get Admission Class 11th
For admission to cadet colleges and Military colleges after matric, you are to pass the undermentioned criteria and these conditions are required for the final merit list
Written Test
Academic tests syllabus will be conducted in English, Physics, Chemistry, Maths/Biology
Matric Marks
Intelligence Test
Interview
Medical examination
Students will be selected for cadet college after their overall performance in the above-mentioned criteria and a final merit list is made on these criteria. Academic tests and Intelligence tests may be conducted on a computer online or OMR sheet.
How To Apply for Admission After Matric
Willing students are advised to download the admission form from the required cadet college's official website.
Fill out the admission form for cadet college admission for 1st year and submit it to the required address given in the cadet college admission advertisement.
So, this is the complete article for How to Get Admission to Cadet College After Matric for admission in Cadet College.